Enjoy 21.5 miles of walking around the Bathscape. This walk offers stunning views, history, heritage, countryside and city, including Little Solsbury Hill. A beautiful walk in any season as it takes in river, canal, meadows, woodland and peaceful valleys.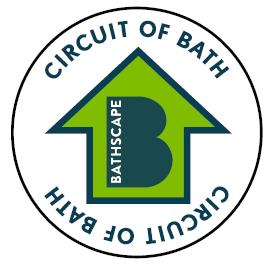 It can be walked and is waymarked in both directions, but the climbs are slightly easier going clockwise. There are several pubs and cafes along the route.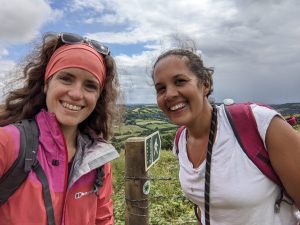 You can start and finish in several places including Lansdown, Newbridge and Odd Down Park and Rides, Bathampton or the Brassknocker Basin car park at the canal centre (parking charges apply here).
The route is based on the Julian House sponsored walk, and this local charity has been checking and refining it every year since 2001.

If you'd like to attempt it all on one day, we'd recommend you try the Julian House sponsored walk each September, when support and transport between checkpoints is available, and you can fundraise for a great cause. If you're giving it a go outside September, please consider donating anyway to help the work they do supporting vulnerable people.
We've divided the walk into four sections, and the route maps will be available soon, and you can download the route digitally from here.  Walking it in sections is also great training for the sponsored walk!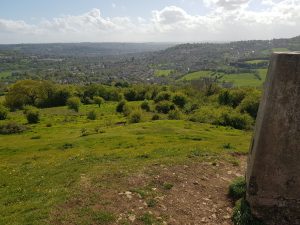 Public transport
This route is easily accessible by public transport. It goes very close to the three Park & Rides and buses run frequently from the centre of Bath, a short walk from the train station. There is also a bus stop near the Canal Visitor Centre/Brassknocker Basin Car Park and buses to Bathampton which are other recommended starting points.
Getting there
If you are not using public transport you can drive to one of the points along the route where parking is available. If you are driving from Bristol or the west the best place to start is Newbridge Park and Ride. If you are coming from the North the best option may be Lansdown Park and Ride. In the south west you can go to Odd Down Park and Ride and in the south east you can head to the Brassknocker Basin car park (charges apply).
Safety information
Remember to pack plenty of water and snacks if you are tackling this route in one go.
Some of the fields do have livestock in them so if you are walking with a dog please put them on a lead whenever you see grazing animals. There are some sections along country roads and lanes. Please be careful and make sure you walk in single file and on the right so motorists can see you clearly.
Maintenance
If you spot any problems whilst enjoying the public footpaths, please get in touch with the Public Rights of Way Team at Bath & NE Somerset Council or Wiltshire Council.
Photos by Maria Jesu Dass and Nicole Daw