This circular pilgrimage route takes you round four tiny churches in the beautiful Lam Valley on the edge of the Cotswolds. Starting at St Mary the Virgin in Swainswick, the route crosses the valley to All Saints in Woolley and St Mary Magdalene in Langridge. From there it heads up and over Lansdown to St Mary the Virgin Charlcombe, with its peaceful garden and holy well, and back across to Swainswick.
Details
5 miles/ 3 – 4 hours
Start and Finish at Swainswick Church
Parking on lane near the church
Tea, coffee & toilet available at Swainswick Church
Terrain: lanes and footpaths, some steep & muddy
You can download the self-guided trail guide here, with a step-by-step guide and map to take you round safely. Lam Valley Pilgrimage
When is a walk a pilgrimage?
A pilgrimage traditionally takes you to a sacred or holy place. But you could say that any walk can be a pilgrimage if you decide to make it one. A pilgrimage on foot is simply a walk with an intention – a walk to which you have given a purpose or meaning. Pilgrimages connect us to landscapes and places and to our internal depth and spirituality. You don't have to be religious to go on pilgrimage, but pilgrimages have been part of Christianity and other religious traditions for centuries.
.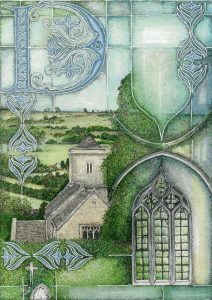 This walk was created by Swainswick Church