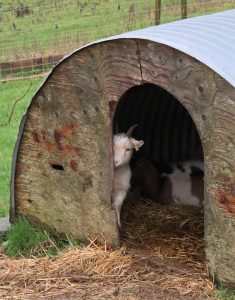 Bath City Farm Special
As a landscape partnership so much of what we do is about collaboration.  This newsletter takes a peek at Bath City Farm, an important partner and a very special site in the Bathscape!  If you haven't been to Bath City Farm before then why not head over and see for yourself.
We've enjoyed a wonderful winter walking in the Bathscape and marvelling at our fantastic volunteers as they work to manage our local habitats.  Thank you to everyone who has enjoyed the Bathscape with us and for all the marvellous volunteers and partners who continue to care for it!  A special thank you to our placement student, Ruby who has taken the majority of the photos shared in this edition of our newsletter.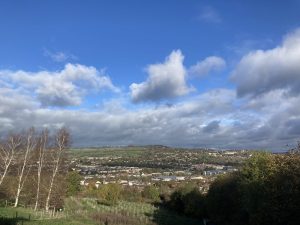 The changing landscape at Bath City Farm, by Brendan Tate Wistreich – Bath City Farm Director
Bath City Farm is a charity based on 37-acres of historic farmland in the neighbourhood of Whiteway in Twerton, Bath, benefitting from spectacular views of Bath and surrounding hills. The site is a haven for nature and a popular visitor destination for people who come to socialise in the Farm café, grab something from the emerging farm shop, stroll around the green space, visit the animals and access children's play facilities.
The most remarkable thing about the Farm though is its social projects. The Farm provides free groups for people of all ages, providing alternative education as well as supporting people with additional health or learning needs to build confidence and skills to overcome personal challenges. These include therapeutic activities and work-based training in horticulture, animal care, site maintenance and conservation.
The Farm has recently worked closely with Bathscape and Avon Wildlife Trust to develop a plan to enhance its rich mosaic of habitats, which support a diverse range of insects, small mammals and birds. This includes a 5-year programme of improvements to regenerate species rich grassland, hedgerows, copse, and the creation of new wood pasture, wildflower meadows, and wetland habitat.
A grant from Bathscape is enabling the farm to install a new sweet chestnut stock-proof perimeter fence, allowing us to rotate a range of grazing herbivores around the site. By introducing a mix of legume and herb rich swards as well as unimproved wildflower grassland, the land will provide an abundant food source for the thousand plus species already identified on the Farm site, and many more we hope will come to make a home here.
The Farm has hosted Bathscape volunteer days to take on conservation tasks, and used funding to provide workshops in hedge laying and tree pruning. There have been bat walks, bio blitzes, moth and bird walks. Support has also been provided to improve the Farm's ponds, which are home to great crested and palmate newts.
In an age of climate crisis, I believe city farms are essential spaces for communities to address social and environmental challenges.  Situated in areas of disadvantage they provide space to grow food and address food insecurity. As vital green spaces and through targeted programmes, they provide an antidote to many of the stresses of modern life. They are spaces to find deep-rooted connection in each other, ourselves and the natural world.
Donate to our charity via our website, or consider becoming a member. Get in touch by contacting info@bathcityfarm.org.uk. We are grateful for all the support we receive.
Natural Pathways
Our Natural Pathways group is a friendly wildlife conservation group that combines practical conservation tasks encouraging more wildlife to the farm and mindful activities aimed at improving our wellbeing.  It's aimed at people experiencing anxiety, low mood, depression or could just benefit from some time outside.
It runs every Thursday at Bath City Farm from 10.30 to 2.30.  George from Avon Wildlife Trust runs the project for us.
More information about how to get involved can be found on our website
Training Programme for Young People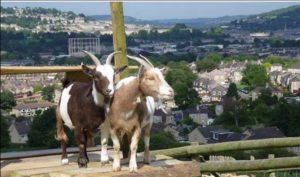 Bathscape is working in partnership with Bath City Farm to deliver accredited training. We are running free 6 week courses for 16-25 year olds who are not in employment, education or training.  Young people learn practical skills that count towards an AQA award and will demonstrate their experience, interest and abilities when applying for jobs, apprenticeships and training.
One young person said "I would really love to volunteer at the farm again and do another AQA Award course and also to continue to be around animals.  If you have any worries about the course you can tell the farm how you are feeling and let them know if there is anything in particular that makes you feel uncomfortable and they will help you. I don't feel comfortable in groups so I didn't have to go in a group, that meant I could do the course. It is very supportive."
Find out more on our webpage!
Green Skills and sharing skills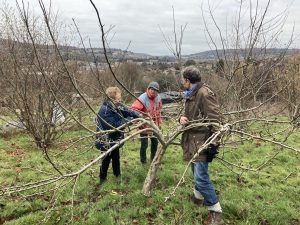 This January we've had a great time sharing skills.  A huge thank you to the marvellous Tim Foster for coming along to Bath City Farm to share fruit tree pruning training with our fab volunteers and local community members.  As well as learning some 'top snips' to take home, the group were able to help care for some of the fruit trees grown at the farm – win win!
We were also joined by 10 young people at Bath City Farm for our Green Skills Day led by Jude and Tim, which focused on tree planting and learning tree care and maintenance skills.
Keep an eye on our volunteering and events pages and social media for upcoming opportunities to gain and develop green skills.
And still to come…
Green Skills Day on 21st April – we'll be based at Bath City Farm where Jude will lead training focused on developing construction skills to create compost bins and some professional tips for making healthy compost.
Bioblitz on 10th June –  as part of the Festival of Nature programme we'll be offering fab family events including bird walks, bug hunting, butterfly identification and a bat walk on the evening before!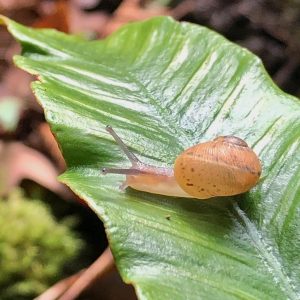 Series two of our podcast continues – our latest two episodes share some of the Bathscape highlights of 2022 and, focus on social history, work and a public art project with local schools in Twerton.
You can listen to the
podcast
or search for "Bathscape Footprints" on your favourite podcast provider. Huge thanks go to our podcast producer Pommy Harmar for all her continuing work on this project.